Biochemical Pathway Figure
Fatty acid molecules are broken down in the mitochondria by β-oxidation. In this process, two carbons are removed at a time, generating a shorter chained fatty acid molecule, acetyl-CoA, NADH and FADH2. Acetyl-CoA then enters the citric acid cycle, while NADH and FADH2 are used in the electron transport chain. The process is repeated on the shortened fatty acid molecule. The VLCAD enzyme catalyzes the initial step of mitochondrial β-oxidation of long-chain fatty acids with a chain length of 14 to 20 carbons.
Figure 2. VLCAD Biochemical Pathway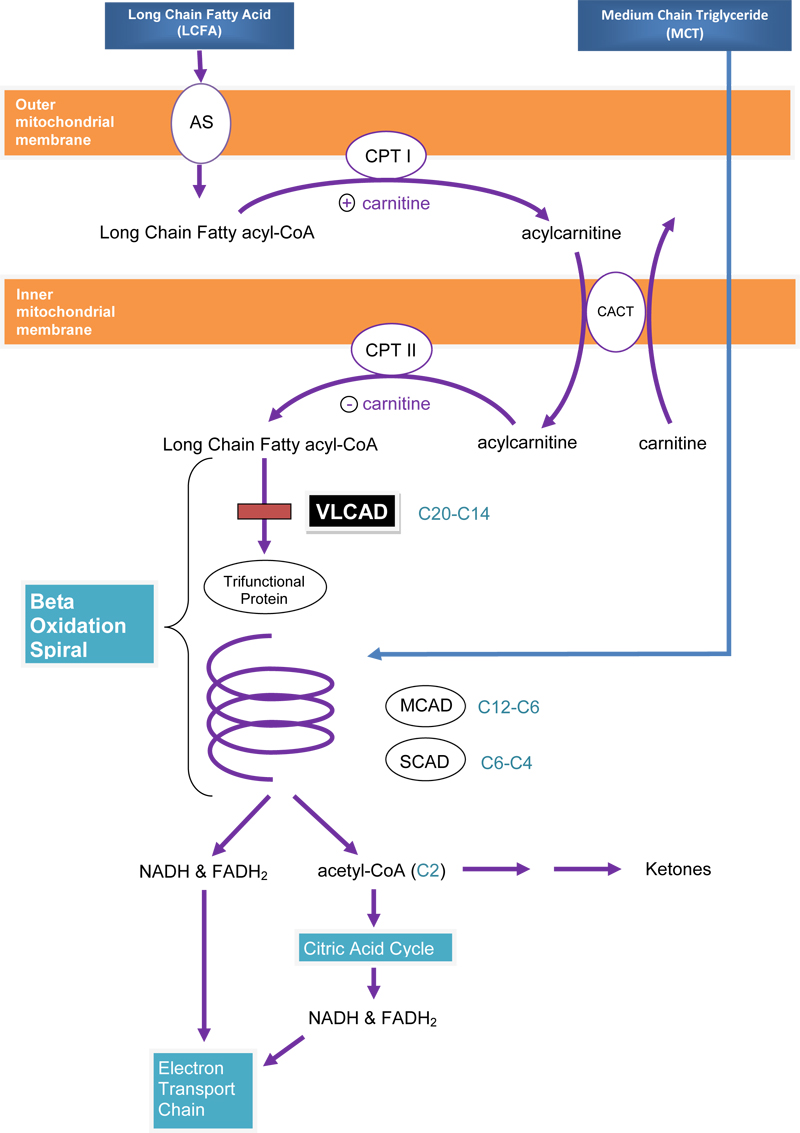 Fatty acid oxidation requires entry of long chain fatty acids (LCFA) into the mitochondrial matrix via the carnitine cycle enzymes:
Acyl-CoA synthetase (AS)
Carnitine palmitoyltransferase I (CPT I)
Acylcarnitine/carnitine translocase (CACT)
Carnitine palmitoyltransferase II (CPT II)
Once in the mitochondria, ß-oxidation sequentially oxidizes the long-chain fatty acyl-CoA to the two-carbon acetyl-CoA via these enzymes:
Long-chain acyl-CoA dehydrogenase (VLCAD)
Trifunctional Protein which includes enoyl-CoA hydratase, 3-hydroxyacyl-CoA dehydrogenase (LCHAD) and β-ketothiolase
Medium-chain acyl-CoA dehydrogenase (MCAD)
Short-chain acyl-CoA dehydrogenase (SCAD)
Acetyl-CoA can then enter the citric acid cycle and or/serve as the precursor for ketone production. The reducing equivalents NADH and FADH2 produced from β-oxidation and the citric acid cycle enter the electron transport chain for ATP production.
In treatment of VLCAD, supplementation with medium chain triglycerides (MCT) bypasses the carnitine cycle and enzymes required to oxidize long chain fatty acids, allowing for continued β-oxidation and production of acetyl-CoA.
Figure adapted from Y.28.